#WeNeedDiverseBooks has been a trending for several solid months for good reason--we
do
need to infuse our children's books with a variety of racial and ethnic backgrounds. A recent classroom Skype absolutely solidified this point in my mind...
I've been doing Skypes with young readers since THE JUNCTION OF SUNSHINE AND LUCKY released last February; I've talked to library groups and advanced classes and reluctant readers (the reluctants are my faves). I've also discussed the book with readers of several different racial backgrounds; an entirely African American group recently made an especially strong (actually, completely unforgettable) impact.
When the faces of this group came to life on my screen, I figured they'd immediately picked up on the fact that Auggie and Gus were African American while reading THE JUNCTION. I was excited to hear what they'd have to say about race and the book. Instead, the faculty member who organized the reading group told me she had to point out that Auggie and Gus were not white, as these readers had initially assumed.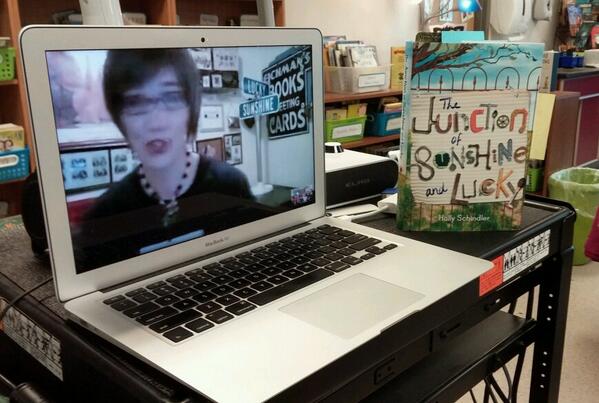 We went on to discuss why I chose this particular treatment of race: Auggie has such colorful, poetic language throughout that I didn't think she'd rely on simple labels. She'd be poetic in her descriptions of her skin color (comparing it to mud, etc.) I also felt it was important to show Auggie living in a multi-racial neighborhood; in the book, Auggie's friends, teachers, and neighbors are white, African American, Asian, etc. I wanted the faces in Auggie's surroundings to be every bit as varied as the faces in her sculptures. (They'd provide some artistic inspiration for her.)
But even though we continued to have a great conversation, I have to admit, I was floored. Their assumption about race couldn't have been based on the fact that I'm white; I don't have a photo on the jacket of THE JUNCTION. I'll admit I generally come to a book expecting the MC to be white--primarily, I've always assumed that's because I'm white...or is it? I'm suddenly wondering if it's not that MCs (of a wide swath of genres and age categories) are so predominantly Caucasian as well.
These students made me proud of the fact that I've chosen to depict MCs of different races (and sexes--one of the protagonists in PLAYING HURT is a male). I'm glad I've chosen to reach beyond what is immediately familiar to me.
More than that, though, these students have also inspired me to continue painting my characters with a wide variety of brushes. And I hope other authors are finding similar inspiration...